Every Guitar,whether £40 or £2,000,
is set up to play at its optimum performance...
...need another reason to choose Nobles Music?!
Here are some excellent reasons:
Suppliers of sound, lighting & entertainment equipment to local authorities.
Free on-site quotations for sound, lighting & audio loop. Installations to places of worship with 2 year warranties.
In house Repairs to practically everything we sell.
Most credit cards accepted over £10 of purchase.
Small, free car park for visitors behind premises, plus huge free car park adjacent to the store.

Specialist repairs for most amplification starting from pre 60s.

We are Wales' original valve wizard. If it has valves, then we have probably serviced/repaired it at some time!

We survey, estimate and install all types of sound communication equipment for factories, restaurants & clubs. As well as outside applications from golf clubs to equestrian events.

Vintage and rare guitars bought and sold.

Fed up trying to sell your equipment privately?

Call us

to discuss our special arrangements to sell/exchange your gear.

Everything serviced and inspected before sale.

Insurance valuations arranged and a discount available to main insurers on replacing stolen/damaged equipment.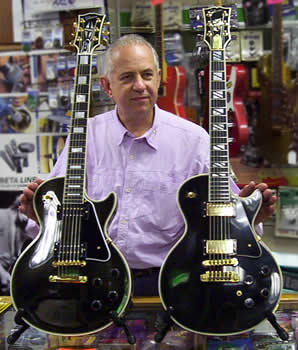 Owner Clive Noble with
a selection of vintage Gibsons